Creating a Culture of Water Conservation (DWR)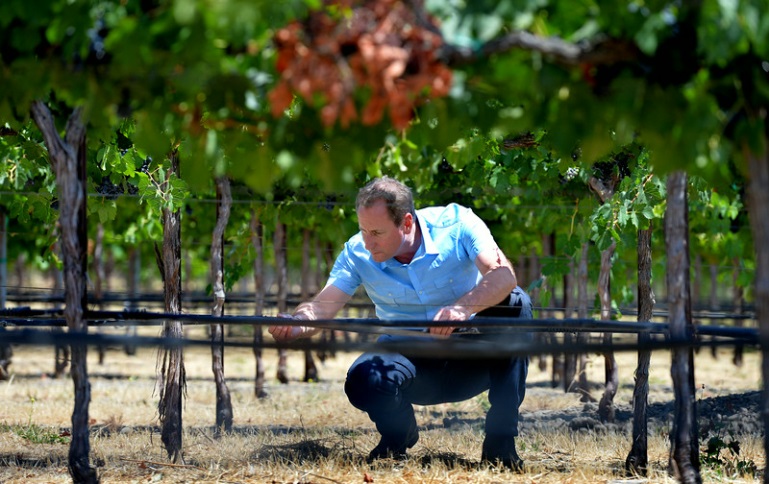 This project investigates what influences growers' decisions and behavior regarding water conservation practices in vineyards. Funded by the Department of Water Resources (DWR), the Vineyard Team hopes to identify the factors contributing to a culture of conservation.
For growers in the project, Vineyard Team performs a free Distribution Uniformity (DU) Evaluation on an irrigation set in the grower's vineyard. A report with the outcome of the evaluation and recommendations to improve efficiency is written. Results are presented in-person and discussed with the grower.
After that, some growers are contacted by phone every few months to check in and see what they are thinking about or doing in relation to the things mentioned in the DU report. Other growers are not contacted again until the end of the project.
The project runs for two irrigation seasons. At the end of those two years, a sample of growers will be selected to have a follow-up DU evaluation performed by Vineyard Team.
All individual grower information is confidential.
Contact Craig Macmillan, PhD, to sign up or learn more.

FAQs
What is the purpose of the project?
To help growers conserve water in vineyards and to better understand how growers think about and make decisions about irrigation.
What size block can I have evaluated?
That depends. One irrigation set is evaluated. This may include several blocks, or it may consist of a single block. It's best to contact us to see if it will work for the project.
How long does the initial meeting take?
About 90 minutes.
Will I get a copy of the report?
Yes, you will receive a hard copy and digital report of the findings.
I already know how to interpret a DU report. Can I have the DU report without meeting?
No. The information we need to collect from the project comes from the time we spend with you one on one.
How many follow-up phones will there be and how long will they last?
Some growers will be called every two to three months. The calls last five to fifteen minutes depending on what there is to talk about. Other growers will be called one year after the DU evaluation just to remind them they are still in the project. All growers will be called and asked to meet again at the end of the project (two years).
Besides DU tests, what else is involved with this project?
Vineyard Team will organize and distribute a number of educational tools (tailgates, fact sheets, articles, podcasts) related to irrigation management.
Additional Resources