2017 Vineyard Team Scholarship Winners Announced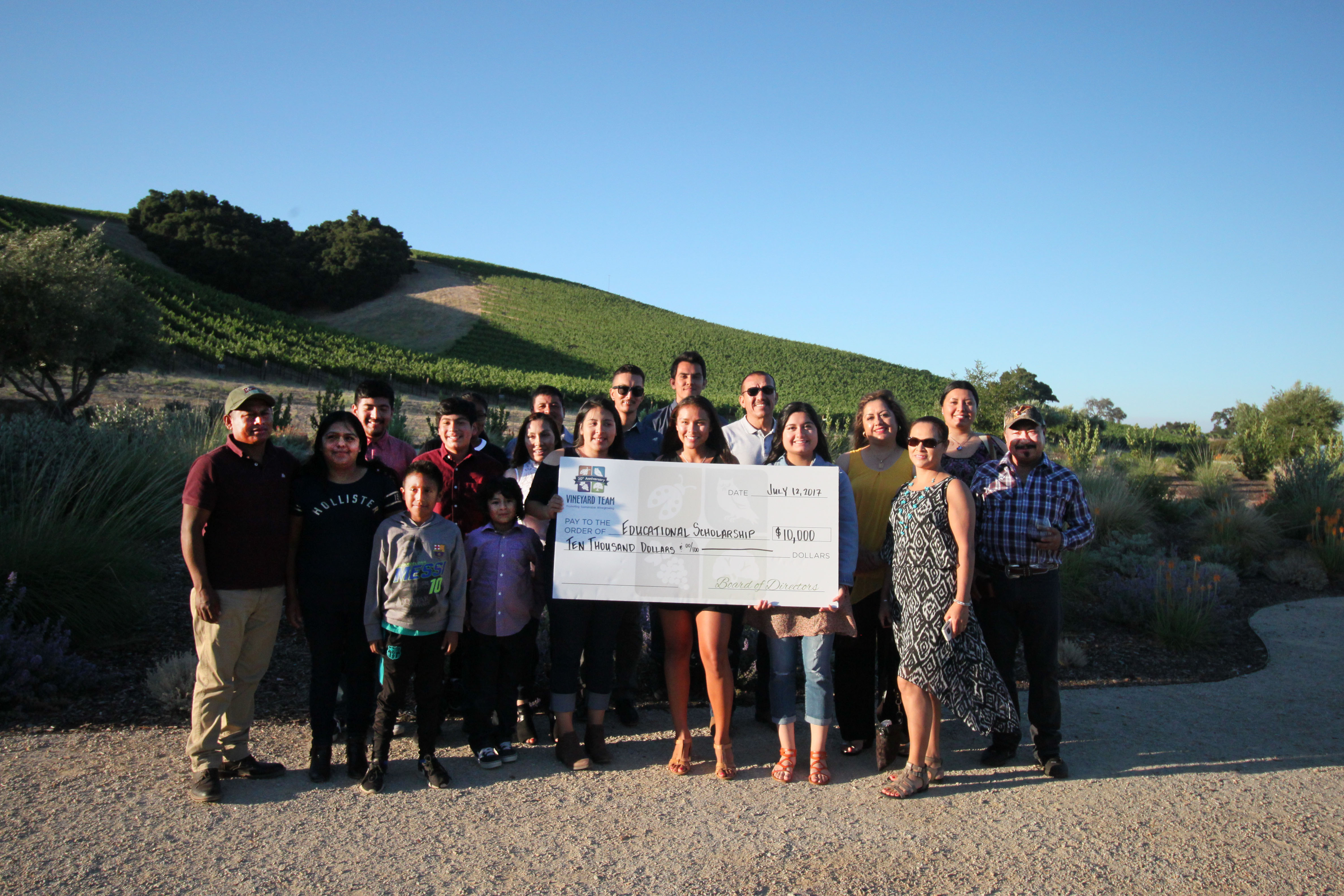 The Vineyard Team Educational Scholarship was inspired by one of the 3 P's in Sustainability: People. Since its inception in 2015, the Vineyard Team Educational Scholarship has awarded $30,000 in funds to children of farm workers who are pursuing higher education, many of whom are first generation college students. All of the scholarship winners are children of Vineyard Team member organization employees, and each student exemplifies a dignity and grace that makes them standout among their peers.
At this year's Vineyard Team Member BBQ, we awarded not only dollars, but also confidence in the tenacity of four young people. People who have overcome great odds and remain steadfast in their dedication to further their education and honor their families. This year's recipients are Evelyn Alvarez, Gabriela Garcia, Sandy Garcia, and Leonardo Ruiz, in total receiving $10,000 toward pursuing higher education goals.
"I am extremely grateful for the Vineyard Team and for their valuable generosity that truly helps support college students such as myself continue striving and achieving our educational aspirations. This highly appreciated scholarship that I have had the honor to receive has undoubtedly made me one step closer towards making my future endeavors a reality. Thank you so much for making a significant difference in my life!" -- Evelyn Alvarez, 2017 Recipient
Learn More About the Winners and Their Families:
Evelyn Alvarez:
Evelyn's father works for Mesa Vineyard Management. She is a first generation college student, currently attending Cal Poly. Evelyn's efforts to volunteer in her community, primarily with wildlife and animal rescue organizations garnered her letters of recommendation that were especially persuasive of Evelyn's hard work, dedication and passion to better her community. Evelyn reminded us last month that a scholarship is more than money. In her words, "it is an opportunity, a window to be able to continue striving to complete my educational endeavors and career goals."
Gabriela Garcia:
Gabriela's father works for McIntyre Vineyards. Her family had a medical challenge several years ago and as the eldest of five siblings, Gabriela took it upon herself to help support her family. She decided not to go to college and instead work full time and be primary caregiver to her siblings. As the medical concerns lessened, Gabriela was able to return to school but has not stopped supporting her family - she works all day, comes home and makes dinner, helps siblings with homework, then studies until the early morning hours. Her alarm sounds at 6am and her day begins again. She inspired the Scholarship Committee with her selfless dedication to her family and drive to finish her degree.
Sandy Garcia:
Sandy's father works for Mesa Vineyard Management. She is heading to UCLA in the fall to pursue a degree in Physiologic Science. Not only is Sandy a volunteer in her community, an accomplished varsity athlete, and class valedictorian but what was most inspiring to the Scholarship Committee was her selflessness. As a high school student, when she heard there was only one youth girls soccer team in her community and the reason was because there were not enough coaches, Sandy let her own athletic pursuits go so that she could sign up as a coach. She epitomizes putting community first.
Leonardo Ruiz:
Leonardo's father works for Talley Vineyards and is a second year recipient of this scholarship. Not only was Leo a leader in high school in all endeavors, but he has continued that same work ethic as a Physics Major at UCSB. His efforts have been robust and ambitious in his first year and he humbly admits, it is not easy. Despite the challenges he faced, he is still mentoring, still recruiting, still giving back, still being a leader in his school community. The support he has from professors and counselors at UCSB is evident in their letters. The Scholarship Committee was touched by "the promise of this young man" and his humble nature - we are proud to continue supporting Leo in his efforts.
« Back to News Index