Vineyard Team Awards $20,000 in Student Scholarships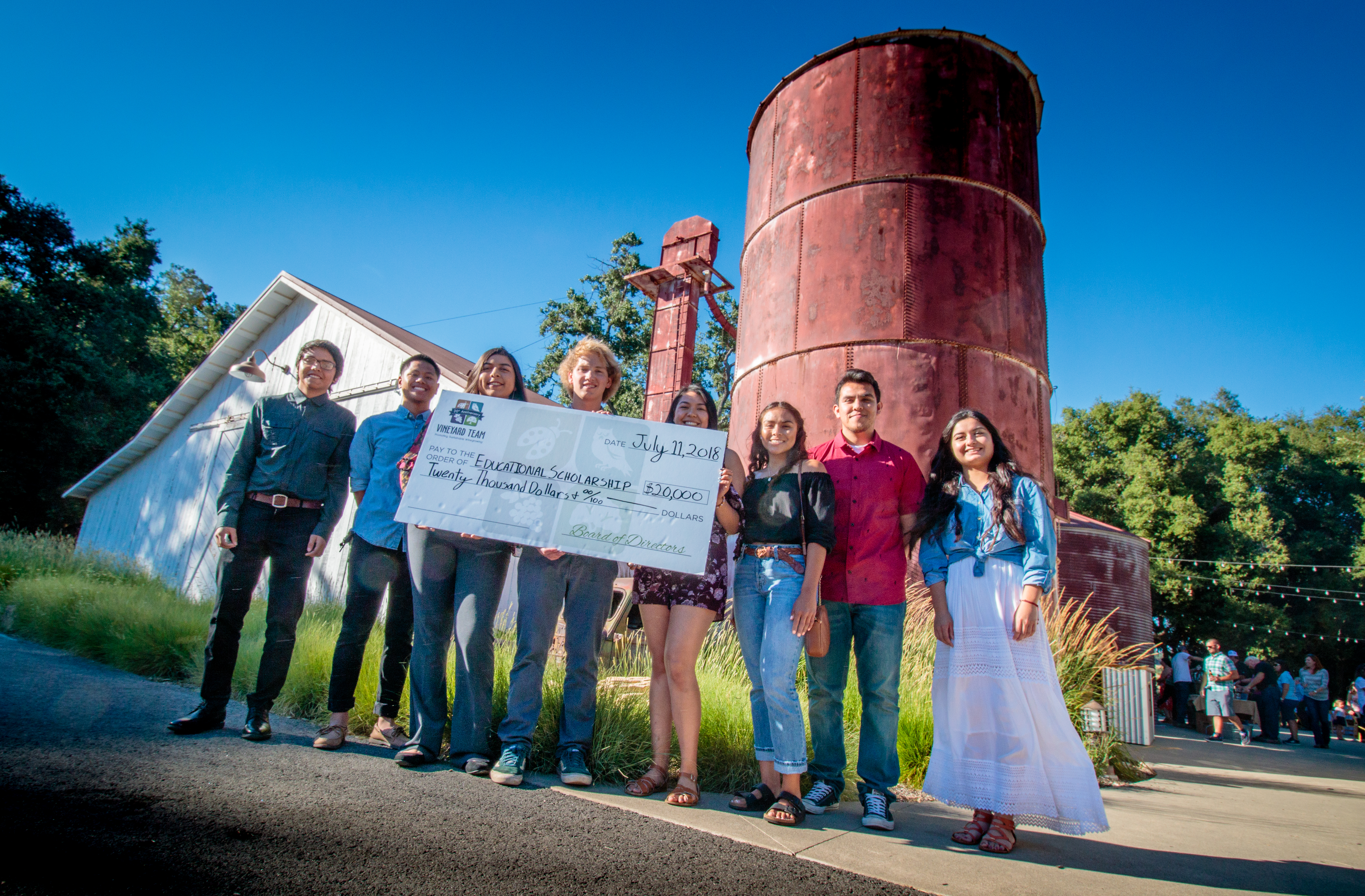 Atascadero, CA—Since its inception in 2015, the Vineyard Team Educational Scholarship has awarded $50,000 in funds to children of farmworkers who are pursuing higher education. These scholarships help fund the college education of students who are related to Vineyard Team members. Scholarships are awarded based on academic excellence, community service and financial need. This year, the Vineyard Team was able to increase its giving from $10,000 annually to $20,000 thanks to generous donations from local wineries.
This is the fourth year the program has been offered and all of the students awarded scholarships are graduating from high school or are currently attending college.
Scholarship recipients demonstrated commitment to their communities and families and showed this dedication through volunteer work. They were all involved in school organizations including athletics and music, some of them worked as research assistants and many worked multiple jobs to help pay for college.
The Vineyard Team Scholarship program has a significant impact on the education of these young adults. A 2018 scholarship recipient thanked the organization for bestowing this award: "I am extremely grateful for the Vineyard Team's generosity that helps support students to continue striving for and achieving our educational aspirations. I'm honored to receive this scholarship — it has made me one step closer towards making my goals a reality. Thank you so much for making a significant difference in my life!"
Nine students were awarded a scholarship this year—more than double the recipients in 2017—and hail from Delano, Greenfield, King City, Los Osos, San Ardo, Santa Maria and Soledad. The students are attending CSU Fresno, Cal Poly SLO, San Diego State, Sacramento State, UCLA, Cal Poly Pomona, San Jose State and UC Santa Barbara. Their majors include Animal Science, Speech Pathology, Mechanical Engineering, Computer Science, Business Economics, Urban & Regional Planning, Pre-Nursing and Sociology.
The scholarship program opens to applicants in the spring each year and Vineyard Team welcomes sponsors at any time. If you would like to learn more about the scholarship or donate to the program, please contact Lindsey Miller at 805.466.2288 or lindsey@vineyardteam.org for more information.
##
About Vineyard Team:
Arising from growers' interest to educate and guide themselves towards sustainable winegrowing practices, the Vineyard Team has become an internationally recognized leader in the sustainability movement since 1994.
Not only has the organization influenced sustainability initiatives within the winegrowing community, Vineyard Team programs have influenced efforts in other crops as well. Recognized by governmental, environmental, and community organizations, the Vineyard Team's sustainable winegrowing programs are always leading the way in innovation. Visit www.VineyardTeam.org for more information.
« Back to News Index